One-Shot Free-View Neural Talking-Head Synthesis for Video Conferencing
NVIDIA Corporation
CVPR 2021 (Oral)
Abstract
We propose a neural talking-head video synthesis model and demonstrate its application to video conferencing. Our model learns to synthesize a talking-head video using a source image containing the target person's appearance and a driving video that dictates the motion in the output. Our motion is encoded based on a novel keypoint representation, where the identity-specific and motion-related information is decomposed unsupervisedly. Extensive experimental validation shows that our model outperforms competing methods on benchmark datasets. Moreover, our compact keypoint representation enables a video conferencing system that achieves the same visual quality as the commercial H.264 standard while only using one-tenth of the bandwidth. Besides, we show our keypoint representation allows the user to rotate the head during synthesis, which is useful for simulating a face-to-face video conferencing experience.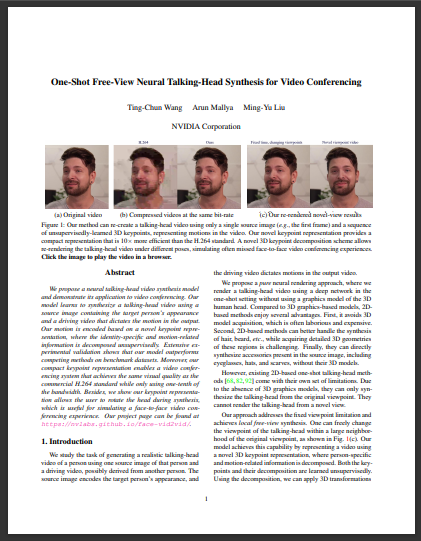 Paper
Citation
Ting-Chun Wang, Arun Mallya, Ming-Yu Liu. "One-Shot Free-View Neural Talking-Head Synthesis for Video Conferencing."
In CVPR, 2021. Bibtex
Code
This work is based upon Imaginaire for non-commercial use. For business inquiries, please visit our website and submit the form: NVIDIA Research Licensing.

Dataset
The dataset we collected to train the model can be downloaded here. Note that the number of videos differ from that in the paper because a different preprocessing script was used to split the videos.

Demo
Please visit
this page
for an online demo.
Our Example Results
Video Reconstruction
Head Rotation
Face Frontalization
Motion Transfer
Citation
If you find this useful for your research, please use the following.
@inproceedings{wang2021facevid2vid,
  title={One-Shot Free-View Neural Talking-Head Synthesis for Video Conferencing},
  author={Ting-Chun Wang and Arun Mallya and Ming-Yu Liu},
  booktitle={Proceedings of the IEEE Conference on Computer Vision and Pattern Recognition},
  year={2021}
}